"Anne Cameron's fictional voice is as unique as Canada.
She can cuss like a logger or set down words as tender as lullabies."

-Patricia Morley, Ottawa Citizen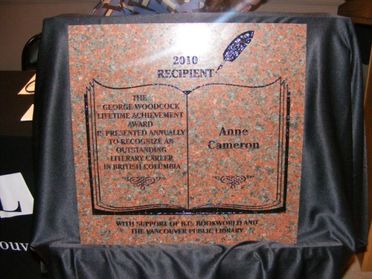 "In a Cameron novel, the men drink, beat the people around them, and/or sneak into their daughters' bedrooms. Their wives drink, co-depend and/or enable. Yet Cameron can build a believable enabler before you know where she's headed, or give a convincing Caliban moment to a brute."

-The Globe and Mail

"Cameron knows how women talk to each other."

-Vancouver Province

"Cameron's women aren't whiners. Their problems are believable, their triumphs small but fulfilling. They feel real enough, likable enough, to want to call one up to go out for coffee."

-Coast News
Praise for The Whole Fam Damily:
". . . an absolutely riveting cacophony of voices that will stay in your head long after you've put the book down."

-The Daily News, Halifax

"Theirs is a world where children learn that beer and violence are as much a part of life as TV and Kraft Dinner . . ."

-The Leader Post, Regina

"Beatings, sexual abuse, arson. . . all of the sickness that spins out of a family as it swirls in its own destruction from generation to generation.. . . The Whole Fam Damily rings powerfully and disturbingly true."

-The Ottawa Citizen

Praise for Women, Kids & Huckleberry Wine:
". . . quirky, witty, entertaining and somehow strangely uplifting."

-Edmonton Journal

". . . easy-going, direct, funny, cynical and full of incisive curses and wisdom."

-Diversions

Praise for Deejay and Betty:
"No doily or decorative language, no fancy postmodern structured techniques, just a straight-from-the-heart story."
-Vancouver Sun

Praise for Escape to Beulah:
"A feminist fable for our times, told with a dispassionate, fascinated vigour."
-Vancouver Province

Praise for Daughters of Copper Woman:
"... an enchanting, uplifting revelation."
-Ottawa Citizen

". . . startling mix of the exotic, the repellent, and the fantastic ... a unique book, a work thick with substance and extraordinary life."
-Vancouver Sun

"... the underlying vision, though tender, has the thrust and the strength of steel."
-Quill & Quire

Newspaper Article
Anne Cameron: in defence of ordinary people: 1 Edition
Author: KIM HEINRICH
Abstract
[Anne Cameron] rolls herself a cigarette from the tin of Player's tobacco perched on the kitchen table in front of her, the first of a near uninterrupted series that day. Not far from the tin sits Susan Sontag's book The Volcano Lover. And with a cup of tea in one hand and a cigarette in the other, she launches into what she does best: story-telling.
---
Praise for Dreamspeaker


An award-winning TV movie and perennial bestseller, Dreamspeaker is the powerful and deeply moving story of a boy caught between two worlds.
First a multiple award-winning film produced for television (credited in the film as Cam Hubert), then a novel and winner of the 1978 Gibson Literary Award, then a perennial bestseller, Dreamspeaker is the powerful and deeply moving story of a boy caught between two worlds, who learns too late the healing strength of faith and love. In a desperate attempt to escape the institution where he has been committed and to exorcise the unnamed evil that haunts him, Peter Baxter runs deep into the forests of British Columbia. Hungry, injured and pursued by inescapable horror, Peter is rescued by an old Native Dreamspeaker and his mute companion. Through their teachings, Peter discovers the power of the Indian spirit world—and the courage to face his terror alone.
Canadian Materials Rating: ****/4
"Anne Cameron first wrote Dreamspeaker as a film script. The 1979 movie by the same name, directed by Claude Jutra, won seven Canadian film awards and was subsequently telecast on the American Public Broadcasting System and on the British Broadcasting Corporation. Then Cameron wrote the story as a novel, one which has been recommended as supplementary reading in a number of school systems across Canada and is on the curriculum of Nipissing University in North Bay and the First Nations University of Canada. 
Highly Recommended."

-Ruth Latta, Canadian Materials (June 24, 2005)
"Dreamspeaker is a novel that crosses adult and children's literature boundaries in multiple ways…I would recommend that any adult who gives Dreamspeaker to a child read it along with the child and be more than prepared to discuss, laugh with, and cry over this remarkable novel."

-Norah Bowman, Prairiefire
Award HighlightsDreamspeaker, 1979 Etrog for 
Best Screen Play
In 1968, a bronze award statuette was designed by Sculptor Sorel Etrog and the award was often referred to as an 'Etrog'. The awards were formally renamed Genie Awards
in 1980.
The statuette exemplifies the artist's interest in the concept of growth. It is, according to Etrog, a standing figure whose focus of energy is concentrated in the upper part of the body, thus reflecting the process involved in transforming an idea or concept into a visual reality.
The Genie statuette, gold-plated bronze mounted on a marble base, stands 14 inches tall and weighs in at 14 pounds!
---